This site is about African doll making. I like to tell you about my inspiration and what kind of materials I use. But most of all I like to show you the results. On the next pages you can see and read more about it.
Doll making
A workshop hand made paper brought me in touch with paper and the possibilities. One of the other participants had already a lot of experience making dolls with paper and was willing to give a workshop to show us how.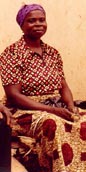 Following the workshop I made a few paper dolls myself but the use of paper soon became less satisfactory, I decide to use fabric instead as you have a lot of possibilities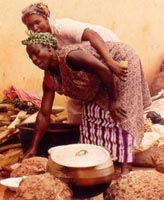 with all the different textures, patterns and colors.
(See photographs).
The possibilities
You can make dolls for in- and outdoors. The difference is the kind of coating you are using. For an indoor paper doll you can use wallpaper glue or cooked starch. When you choose to make a fabric doll you need polytex or paverpol for the coating. For an outdoor doll you use polytex with an activator to make the doll weather resisting so you can leave it out site in summer- and wintertime.
---