Unfinished object
If you don't finish the object in one go, store it in a cool and dark place, covered with a damp cloth and put it in a plastic bag to keep it moist and malleable. If it is dried out spray it with some water before you start working again. When the object is finished leave it for a couple of weeks to dry in a cool place
Firing in a kiln
After finishing the object you can hollow it out, if necessary cut the object in pieces and fix it together again when the parts are hollow. Leave it to dry for a couple of weeks (about 3 weeks).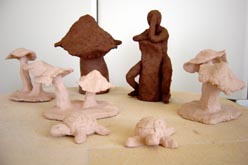 After a few weeks when the clay is dry you can fire it in a kiln at a high temperature. It makes the clay hard and durable. You need not be put off by the idea of firing because you don't own a kiln since it is easy to come to some arrangement with a private pottery or educational institution.
After the first firing (biscuit) you can decorate the clay in many ways, as well you can leave it natural, what you like most. See next page for possibilities.
---