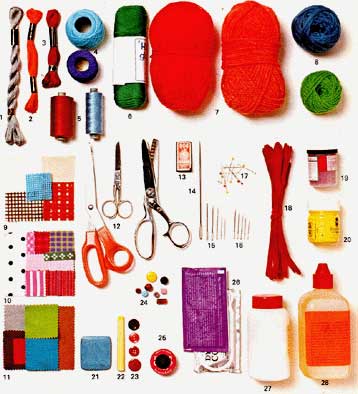 DMC cotton thread
Probably the thread used mostly for embroidery. The thread is made up in six easily divisible strands which you can use in many ways, one string at the time or more.
Silk thread
The same as DMC but the thread is mercerized. It gives a beautiful pearl sheen. The thread is soft and silky.

The image on the left gives an idea what you need for making embroidery.
Silk embroidery thread
DMC thread
Embroider thread
Thin silk thread
Thread for a sewing machine
Embroider cotton
Wool
Synthetic wool
Assorted Fabric for cross stitches
Assorted fabric
Plain fabric
Scissors
Needles
Assorted needles, long and small
Needles for wool
Stitch needles
Pins
Raffia
Powder paint
Powder paint
Chalk
Chalk
Buttons
Assorted buttons
Beads
Cold water paint
Textile paint
---